As the cold weather continues to pound on the country from all ends, sometimes we need to warm up from within rather than cross our fingers and hope for mercy from Mother Nature.  Today's dish, Shrimp Creole, will help with that.
I spend a good part of my higher education in New Orleans, but I never quite bonded with the food scene there. Don't hate!  I have nothing against it, nor against spicy food high on pizazz and personality, but it was just never my cup of tea (except beignets from Café du Monde. Have you had them? Powdered sugar covered crack donuts.  Moving on…). However, as I've been forced indoors by the season, I've seized the occasion to take a second look at some oft-ignored dishes in my house and, no surprise, banished some misconceptions.
Example number one: Shrimp Creole. I'm honestly not quite sure if I've ever had it before, but after making it this first go-around, it certainly won't be my last. A dish that deep with flavor and flushed with personality, in under thirty minutes, it's the perfect way to throw caution to your standard weekday fare, and warm up your winter household from within.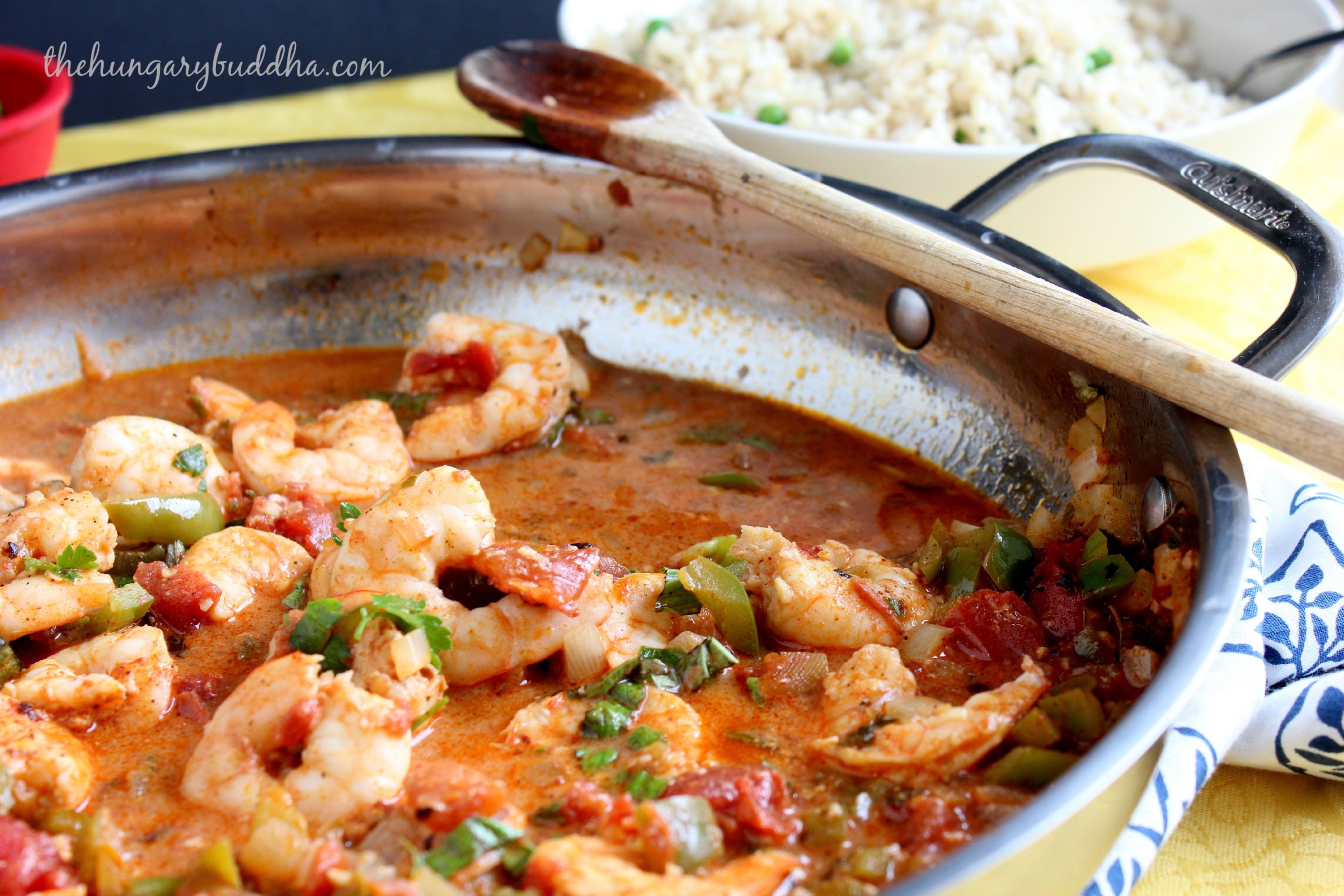 Ingredients
1- 1/2 pounds fresh shrimp, peeled and deveined
2 TB olive oil
½ large yellow onion, diced into small pieces
4 cloves garlic, minced
1 small green pepper, cored, seeded and diced into pieces the same size as the onion
1 cup diced tomatoes (you can use fresh, I used ½ a can)
¾ cup of white wine (I used Savignon Blanc)
2 TB fresh basil, cut into ribbons
2 TB fresh parsley, coarsely chopped
½ tsp salt
½ tsp black pepper
½ TB Worcestershire Sauce
1 TB hot sauce
1 tsp chili powder
1 tsp smoked paprika
1 tsp dried oregano
½ tsp cayenne pepper
1 bay leaf
2 TB heavy cream (optional, eyeball it)
White or brown rice, to accompany
Directions
1.  Heat the oil in a heavy skillet. Add the onions, garlic and green pepper, bay leaf and spices. Cook over medium heat until soft, about 5 minutes.
2.  Add the wine, and scrape the bottom of the pan to remove any bits. Add the tomatoes and bring to a boil. Reduce heat and simmer about 20 minutes until some of the liquid has been reduced.
3.  Once the liquid has reduced, add the shrimp and cover and let cook about 5-7 minutes until the shrimp are all cooked (this shouldn't take long). Stir in the cream and add the basil and parsley at the end, right before you serve it.
Happy Eating!
Chrissy
The Hungary Buddha Eats the World